Can you believe it's September? I'm still wondering where July went! Don't get me wrong, I love fall. It's my favorite season of the year...I just can't believe it's time to get into the driver's seat for all the pumpkin spice this-and-that and fall foliage hikes already! Ready or not it's time to buckle up! Right?
I'm beginning a new tradition on the blog on Fridays: Feather Your Nest Fridays! Whether you live in an apartment, condominium, or house we are each striving to make our home or life in general more comfortable and beautiful. Hence, "Feather Your Nest Fridays". I will strive to share ideas and tips on Fridays to hopefully inspire you as you strive to make your home, table, or life in general more comfortable and beautiful. I hope you enjoy!
Did you notice the headboard and footboard? The designer slipcovered the bed and added fringe. This is a clever idea that you can do yourself. This particular fabric is Kari Fisher block-print fabric which is sold to the trade only, but you can find a beautiful fabric that would be perfect for your space.
The bed is layered with linen and burlap, along with natural materials such as wool and angora.
Quilts are perfect for warmer months or as an extra layer in the winter; and
Swap out your duvet for a lightweight coverlet in the warm summer months.
Lumbar pillows are also available at this same site.
Notice how the diamond motif on the Moroccan Beni Ourain rug perfectly complements the pattern the designer used to slipcover the bed.
Don't discount the impact and importance the ceiling gives to the overall mood of the room. The ceiling in this bedroom provides a beautiful ambiance. You can paint your ceilings a shade darker or lighter than your walls, depending on the mood you're trying to achieve, or consider adding a slight texture with a grasscloth covering.
I hope there has been something here that has inspired you today. Perhaps the styling of nightstands? What would you take away from this inspiring oasis to Feather Your Nest?
Have a great weekend!
Warmest regards,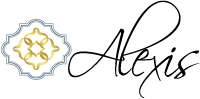 Credit: AtlantaHomesMag.com