Get yourself a glass of ice water and relax a minute while you browse through today's Saturday's Swig & Swag.
Spruce up your water by adding fresh fruit and herbs for a refreshing drink. For a twist, begin by filling a large glass with ice, interspercing slices of strawberries and kiwi, or whatever berries or fruit you love, and 1 mint leaf. In another glass or jar add 12 oz. water and stir in 1 teaspoon* Elderflower Cordial. Pour over your ice and enjoy a fruity glass of ice water. Garnish with a slice of lime and mint, if desired.
(*add more or less depending upon your preference)
I love adding a small amount of Elderflower to my water for a light, refreshing taste.
You really just can't go wrong with blue.
The next time you're out shopping you may just find yourself saying..."I hope it comes in blue!"
Thank you so much for visiting. I hope you're enjoying your day!
Warmest regards,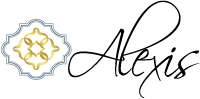 Sources: beginning with blue: 1-11 / 12-13 / all others are mine