Does "laid-back" best describe your way of life? Do you love rooms that feel casual, breezy, and informal? Would you prefer a pitcher full of hydrangeas over a bouquet of long-stemmed roses?
Cheerful, laid-back, and welcoming
.

In some ways, cottage style is as much a frame of mind as it is an approach to decorating. Rooms tend to be humble, unpretentious and full of heart, and people who love this style enjoy the simple pleasures in life.
Cottage style decor is light, airy, comfy, personal and casual. Other styles that often cross borders with Cottage style include rustic, farmhouse, coastal, country, french country, and shabby chic - even though each of these styles has their own unique look, they share some commonalities.
Source: Southern Living
Characteristics you often find in Cottage style homes include modest moldings such as plank walls and ceilings, beadboard, well-worn or reused vintage pieces, second hand treasures, and painted furniture.
Six basics for making this appealing look work in your home:
Source: HGTV
Light Airy Palettes:
Cottage colors are soft and clean - think white mixed with ivory mixed with cream. Layer in pale accent colors like pinks, blues, greens and other washed-out hues.
Tip: Don't combine too many pastels, rather stick with one or two shades.
Source: House of Turquoise
Source: Better Homes & Gardens
Beadboard and Open Shelving:
If there is one thing that is synonymous with "cottage", it's beadboard. The next, open shelving.
Source: Houzz
Beadboard adds warmth and character to cabinetry, a bare wall or ceiling.
Open shelving or glass panes in cabinetry are a highlight of this style.
Comfy and Slipcovers: Comfy and casual, Cottage furnishings invite us to flop down and prop up our feet. Fabrics are forgiving and delicate. Slipcover chairs and sofas for a comfy, casual look. I will note that slipcovers should not be messy, but nice fitting.
source: HGTV
As much as any other element, fabrics define Cottage style: look for delicate florals, ticking, stripes, gingham, eyelet. Natural, textured materials, such as cotton, linen and burlap, fall right in step with the look.
Source: House of Turquoise
Source: House of Turquoise
Source: Southern Living
Simple Window Treatments: Keep window treatments simple. Cover your windows with light and airy window treatments to soften your rooms and let the sun shine in.
Source: Houzz
Curtains are usually simple, sheer, and breezy.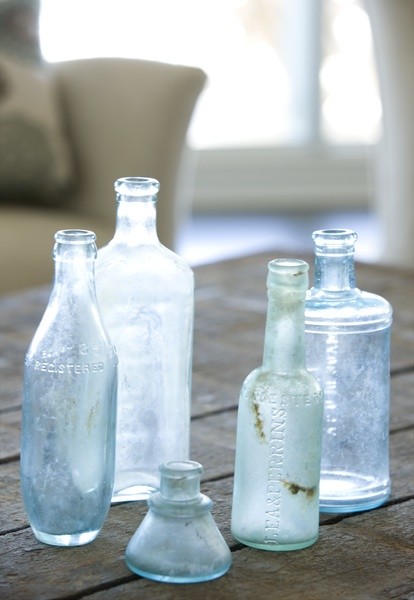 Collections: Collections of your favorite treasures is an important element in Cottage style. Here's the key to making collections work, according to Lisa Frederick, Houzz contributor, "...power in numbers. And that's especially true for the flea market finds and vintage castoffs that tend to populate cottage-style rooms. If they look too scattered, so will the space." Mass together your collections for a collective impact.
Source: Decoholic
Mismatched, Distressed and Painted Furnishings: Chairs are a great way to mix and match furniture for a unique and interesting look. Melinda Divani with Decoholic.org shares, "
Play with the chairs by mixing different aspects such as color, shape, material and designs to achieve a great look."
Source: Houzz
Well-worn or reused vintage pieces, second hand treasures, and painted furniture are common in this style. These distressed, painted pieces would add a vintage look to a room.
source: Finding Home
...peeling paint, all the better.
Cottage style doesn't follow rigid guidelines; instead, it's more of an attitude. It's about relaxation and resourcefulness, easy living and a sense of contentment. Casual, comfortable and lighthearted, it embraces imperfection and straddles both the past and the present through its mix of weathered furnishings and fresh simplicity.
Source: Tumblr
T

here is a lot of leeway for the individual interpretation of the way we think about decorating these days. I love the flexibility of self-expression and encourage you to fill your home with the things you love.
So what do you think, is Cottage Style for you?